Click on the following links for more information:


Boundary Waters Canoe Area
BWCA info, wildlife, trip routes, photos...
Canoe Trip Outfitting
all our packages, rates, menu...
Non-Profit Groups
discount packages for scouts, churches, schools, clubs, High Adventure Scout Trips, and more...
Boundary Waters Fishing
trips, tips, tackle & more...
Guided Trips
the best way to go...
Quetico Trips
information on trips into Canada...
About Us
who we are, directions to our base...
Contact Us
talk to our outfitting staff
For More Information Call:
218-365-3466
1-800-777-8574
Good to Know...
It is important to note that BWCA entry permits are reserved on a first come, first serve basis so the earlier you reserve your trip the better chance you have of securing the best entry point.
Guided Canoe Trips
A wilderness canoe trip is an exciting and adventurous vacation and to make the most of your time in the woods and on the water it is best to take an experienced guide. A guide adds so much to a trip it is almost hard to put into words all the things he will add to your Boundary Waters experience...especially the little things. Your guide will help you navigate your way through the canoe country, take you to the best campsites, help you set up camp, cook some delicious meals over the fire, point out interesting things in the wilderness (often missed by most travelers) and of course, for the anglers, put you on the fish!
Guided Fishing Trips:
Wilderness fishing, for many this is why we come to Ely and the Boundary Waters Canoe Area - and with good reason. The Boundary Waters has some of the best fishing in North America! The cool, clean water here is teeming with just right "eaters" as well as trophy size specimens. From surface busting Smallmouth to Northern Pike, Lake Trout and the tastiest Walleye, the Boundary Waters is an anglers paradise. Now, how do you get in, find the right lake, and get on that fishing hole? The best way - With a Guide!
A guided canoe trip is the most "sure-fire" way to enjoy the wilderness and improve your fishing success. Wake early to a steaming cup of coffee, prepared by your guide, before heading out to a morning of fishing. Take a break and have breakfast or, if it's lunch or dinner time, enjoy one of our gourmet fish recipes. (Not only do you get the hard to beat "fresh in the pan" fish fry but also some of our other specialties such as Brown Sugar Baked Walleye or Fish Chowder.) After getting your fill, you can hit the water for more angling, sit around the campfire or, if it's early in the day, pack up and head to the next destination. It's all up to you.
Fly Fishing:
We offer guided trips for the fly fisherman as well. The Boundary Waters has some amazing opportunities for topwater fly fishing. While we do have a few lakes offering stream trout (mostly Brookies) the main fly fishing activity lies with our Smallmouth Bass and Northern Pike. Just be prepared to throw some big flies! A 9-10ft 8wt rod with weight forward line is ideal.
Guided Wilderness Trips:
For many Boundary Waters vacationers, fishing is only half of the reason for visiting this vast wilderness area. Adventure and exploration or rest and relaxation are what many visitors are seeking. Well, not only does a guide show you where and how to fish, he also enhances your overall wilderness experience. Your guide is there to help make camp, cook delectable meals over the fire, reveal points of interest easily missed by the passing canoeist, and provide insight to the dramatic history of the area. Along the way you will learn many "tips and tricks" to use when you're out canoeing and camping in the Northwoods. A guided trip is the best way to see and experience this vast wilderness.
Reserving a Guide:
Add a guide to any of our complete outfitting packages. Guide fees vary depending on the trip and number of people. To reserve a guided trip call us and we will discuss the type of trip you want and have you speak with your guide. 218-365-3466
---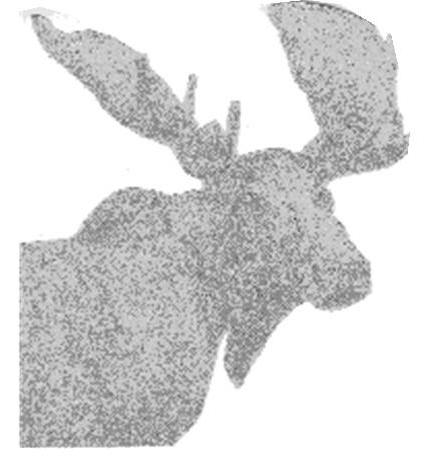 If you are using our How to Plan a Trip tutorial...
You are on Step 5 - elect Your Outfitting Package
A guide is a great addition to any trip. Wake each morning to the aroma of fresh brewed coffee and breakfast cooking on the fire. Not only are the guides good cooks they are also accomplished fishermen and will put you on the best spots to land a lunker. If you are thinking of taking a guide, give us a call at:
218-365-3466 or 800-777-8574.
Call Today and set up a trip! 1-800-777-8574
We will walk you through the whole trip planning process - make route suggestions, gear suggestions and even secure all your permits for you. We will map your route, pack your equipment, pack your food and give you a complete trip orientation upon your arrival. Don't wait, Call today and let your Boundary Waters Vacation begin!
Above: paddling past towering cliffs

Outfitting Packages:
▫ Outfitting Specials
▫ Explorer Kevlar Package
▫ Ultra-Light Canoe Package
▫ Non-Profit Groups
▫ Fishing Trips
▫ Family Packages
▫ Guided Trips
▫ Food & Canoe Packages
▫ Partial Outfitting
Additional:
▫ Menu - food for your trip
▫ Overnight Accommodations
▫ Transportation
▫ Reservations & Deposits
▫ BWCA Permits & Fees
▫ Entry Points & Trip Routes
▫ What to Pack
What's a Canoe Trip?

Rob Nelson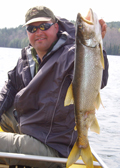 Eli Hill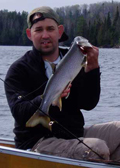 Steve Crittenden

Chris Parthun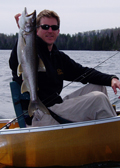 Bill Forsberg